Make Your Car Feel Brand New Again
Interior and exterior car detailing services by Joe Mama Detailing


Clean & Protect Upholstery

Unlimited Wash Members receive 10% off exterior or interior detailing packages!
Love getting in your vehicle again
Do you remember the joy of getting in your vehicle when it was brand new? There's nothing quite like it, right? But after a few months (and years) of daily commutes, road trips, kids, pets, and everything in between, it feels anything but new. Now when you get in all you see is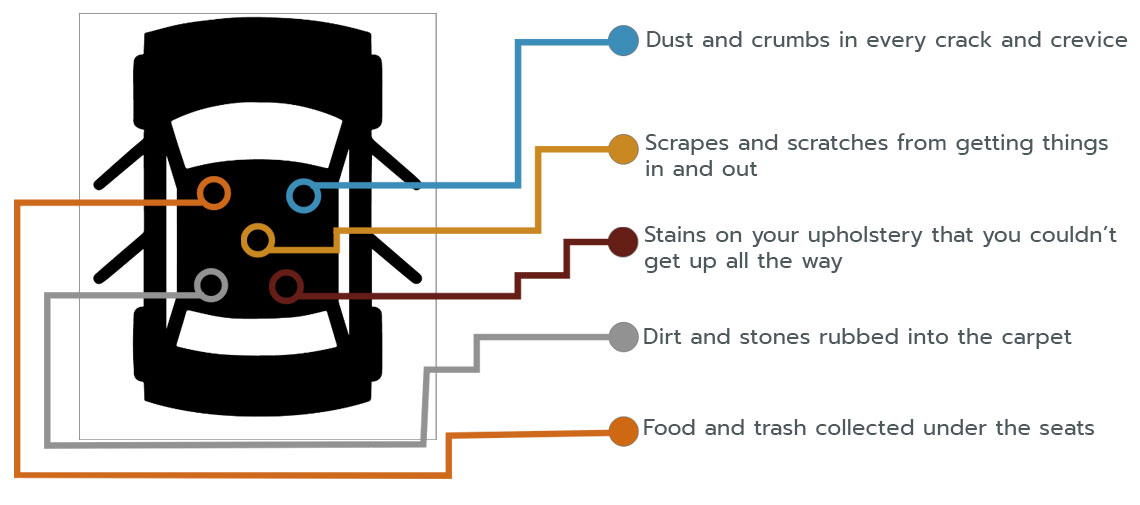 But it doesn't have to be this way! When you get your car detailed with Joe Mama Detailing you get to relive that new car feel all over again.
When you call to schedule your appointment, we will help you select the package that's right for you and find an appointment that works best with your schedule.
A full interior and exterior detail can take up to 5-6 hours to complete. We will call you when your vehicle is ready.
Experience that new car feeling again
When you pick up your vehicle you'll feel like you're driving off the lot all over again.
Happy with their service.
My car is 6 yrs old and has never had a full detail inside and out. After Joe and Shelly finished my car, it looked like it had just come off the showroom floor. The inside looks brand new, and any stains or blemishes were removed. Clearly uses top-of-the-line products with true professionalism. I am totally satisfied and happy with their service. Would highly recommend
I have three kids and pets. I didn't even think my car could ever look like that again. He did a great job, and the price was amazing for the work he had done. He went above and beyond for me, and I really appreciate that very great service. Will definitely be going back!
Getting your vehicle detailed is about more than just making it look great. It's about making sure your vehicle lasts longer!
UV rays can lead to your leather and trim drying and fading. Dust, dirt, and spills can cause wear and tear. Excessive dirt and grime can wreak havoc on your allergies. And, overall, a dirty vehicle lowers your resale value and is less attractive to buyers.
That's why we are proud to partner with Joe Mama Detailing, so you can feel confident that your vehicle is in great condition inside and out.
For more information on exterior and interior detailing packages from Joe Mama Detailing, complete a contact form or call 419-543-3395.
Protect your car so it lasts longer
1401 Lexington Ave, Mansfield, OH 44907
8:30-6:30 Monday-Friday
9:00-5:30 Saturday